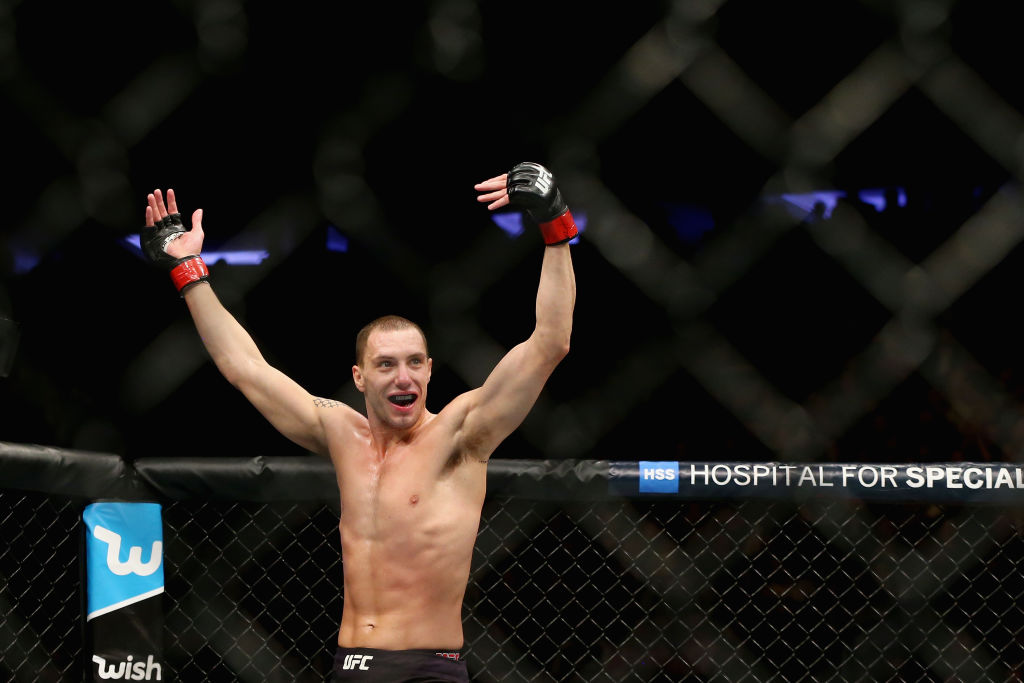 To say mixed martial artists go above and beyond what it takes to be in shape and in tune with their bodies is an understatement. The training blows most workout routines out of the building. Fighters need their bodies firing on all cylinders in the octagon, and cutting weight is at times brutal. To make this process as easy as possible, they mostly stick to diets that contribute to success in the cage.
Mostly.
In James Vick's case, his sweet tooth remains undefeated.
Vick's nutritionist, George Lockhart, brought up Vick's sugar addiction on Joe Rogan's podcast.
"After he makes weight, he's like 'Let me have some Oreos,'" Lockhart told Rogan. "We have a little game (like), 'All right, you get two Oreos if you do this.'"
The lightweight fighter went to Twitter to talk about his deficiencies in eating habits and a newfound commitment to his health.
Okay since my nutritionist and good friend @LOCKloaded called me out on the @joerogan podcast yesterday for being a sugar addict(which he's right) i'm officially cutting all sugar(except fruit) out of my diet! This is not something I have been proud of and have had a bad (1/5)

— James Vick (@JamesVickMMA) October 10, 2018
diet my whole life. I grew up in a small country town in Texss and my family didn't even know how to eat healthy even if they wanted. But that's no excuse. I am a grown man now and make my own choices. I am big for the weight class this is true but the truth is, as George (2/5)

— James Vick (@JamesVickMMA) October 10, 2018
knows I have never been discipline enough to actually follow his program more than half ass and I have still never missed weight. I've always justified this cause I know i'm a beast and very mentally strong when it comes to losing the water weight in the sauna and bath. (3/5)

— James Vick (@JamesVickMMA) October 10, 2018
But it's something I know needs to change. I literally eat so much sugar to the point it's seriously unhealthy. So i'm asking all my fans to hold me accountable on this as I go. It might take some time but slowly and surely i'm quitting all this horrible sugar shit I (4/5)

— James Vick (@JamesVickMMA) October 10, 2018
promise!! (5/5)

— James Vick (@JamesVickMMA) October 10, 2018
A lot of people talk about sugar as a vice, but as a fight gets closer, it'd be safe to assume Vick would cut back on the sweets, right? Not so much.
bro i've still eaten ice cream 2 weeks out from my fight

— James Vick (@JamesVickMMA) October 10, 2018
With this in mind, the fact that Vick hasn't missed weight for a fight in the UFC is that much more impressive as is his 9-2 record in the organization. That said, the last time he fought, he suffered a knockout loss at the literal hands of Justin Gaethje at Fight Night Lincoln.
At 6-foot-3, Vick is one of the bigger fighters in the division, and he's hoping this decision to cut sugar from his diet will help his weight-cutting process a little easier. If it isn't, though, he mentioned that he would consider moving up to middleweight.
If I follow the diet the way i'm supposed and it's still super hard then I will move up but right now i've never missed weight and I cheat the diet probably more than anyone that's ever been on it. So there's a difference in bein to big and just being undisciplined like i've been https://t.co/AypRCGH7VA

— James Vick (@JamesVickMMA) October 10, 2018
While he hasn't helped himself all that much by what he puts into his body, Vick is putting good out into the world. Featherweight Sodiq Yusuff posted on his Instagram thanking Vick for sending money that helped buy backpacks for kids in Yusuff's home country of Nigeria.
Obviously, Vick doesn't have a problem helping others. Now, he's trying to help himself.
Sticking to a diet is an everyday struggle for almost anybody, but one that's worth it if the results are positive. Vick's healthier habits could result in a return to the win column, but regardless, if he can successfully cut the sweets out of his life, he might deserve a championship belt just for that.
Zac Pacleb is a writer and producer for UFC.com. You can follow him on Twitter @ZacPacleb.