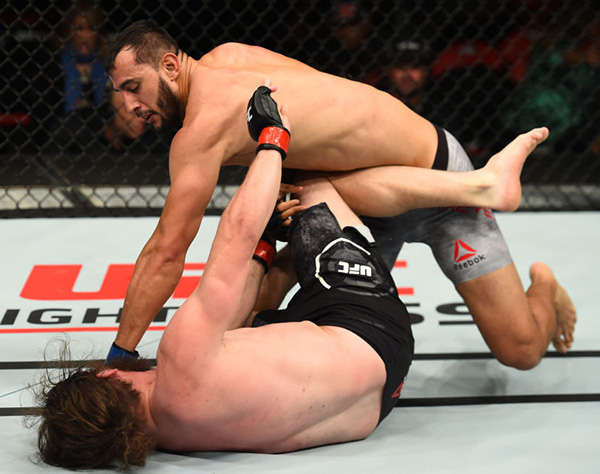 Unbeaten Dominick Reyes doesn't take it personally when some say that his UFC 229 bout with perennial light heavyweight contender
Ovince Saint Preux
is too much too soon. Those same people said the same thing when the Californian fought
Jared Cannonier
in May.
That fight lasted less than three minutes, lifting Reyes' perfect pro record to 9-0 with eight first-round finishes.
"It should be expected," said Reyes. "He (Cannonier) was a vet. But the thing with me is, I don't let the fights go long enough for people to get an opinion. There's not enough film. So either you're with me or against me at this point. I think it's pretty cool that way, and I just like proving my supporters right and prove my doubters wrong."
RELATED: Reyes Thinks Speed Will Be The Difference
Cannonier's six UFC bouts heading into the Reyes fight pales in comparison to the resume sported by Saint Preux, who will make the walk to the Octagon for the 18th time this Saturday. Reyes knows what he's getting into, but he is firmly in the camp that believes that talent can overcome experience.
"Yes, but on any given night, anything can happen, though," he said. "And the cool thing about a fight is that I'm not fighting his experience; I'm fighting him. It's one on one, this night, right now, and what you did before doesn't mean anything. What matters is what's happening this second. That's how I've been able to be successful against all these guys with all this experience, because it doesn't matter. What matters is this punch that's landing on your jaw. That's what matters."
In other words, doubt "The Devastator" at your own peril.
"There's not enough film to say I'm this or that, but I am exciting and I am there to put somebody down," he said. "That's the bottom line. I'm there to fight, I'm there to knock somebody out and excite the crowd. And that's what you're gonna get. But you don't know what's gonna happen. You don't know what my chin looks like because I've only been hit five times."
And over the course of three UFC bouts, Reyes has scored knockouts of Cannonier and Joachim Christensen and a submission of Jeremy Kimball. That trio of victories put Reyes in the top 15, and he's noticing that people are noticing.
"People are kind of looking at me to be that next guy and I'm dealing with it," he said. "It's kind of been that way since I started. Since I first started fighting, I felt like I would be the next guy when that time came, and that time is now, so it's kind of going according to plan."
But is it everything he expected it to be?
View this post on Instagram
"It's been a little different," he admits. "It's a lot more mellow than I expected. (Laughs) I go around and people recognize me, and that's cool, but it's still mellow. I'm still not a household name so I'm not that recognizable, and I'm hoping that's what this next fight will do."
Reyes has the style to become that name, and the demeanor to handle everything that comes along with that status. He was around the hype of a numbered event when he fought Kimball at UFC 218, and being familiar with Las Vegas from the time he was a child has taken away the aura of being in the "Fight Capital of the World." So as the pressure gets higher as we creep towards fight night, Reyes' only emotion is excitement.
"The more excitement and all that, the better for me," he said. "I'm like, 'Heck yeah, more people are here to see me.' I relish those kinds of things. This is how it's supposed to be and this is what I signed up for. I'm expecting it to be big."
Competing on the Pay-Per-View main card of the biggest fight of the year between Khabib Nurmagomedov and Conor McGregor will meet those expectations, but Reyes isn't just happy to be here. He's got more ambitious plans.
"It's my opportunity to get a shot at a UFC vet who's fought the best of the best," he said. "That's what it is for me. It's an opportunity to fight on the Conor McGregor card, become a household name and make it my show."
And here I thought the former Stony Brook University football star was just happy to fight a fellow gridiron vet in the University of Tennessee's Saint Preux.
"I'm not real friendly with offensive players, but he's a defensive guy, so I've got to respect that," Reyes laughs. "But if he gets in his D-end stance, I'll get in my safety stance and we'll see how it goes."