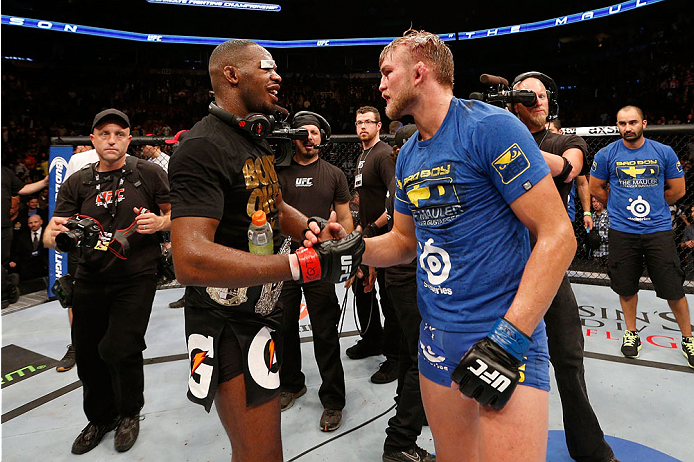 THE FIGHT
If you're in this sport long enough, the hope is that one day you get to cover a fight like
Jon Jones
' five round decision win over
Alexander Gustafsson
. Thankfully, I've had several nights like last Saturday over the course of 17 years covering boxing and 13 years covering MMA, and the great thing is, fights like that never get old, and when the final bell sounds, you feel honored to have witnessed it live. Jones-Gustafsson had everything you hope to see in a fight: skill, heart, drama, and high stakes. And usually when all those ingredients are there, the end result really doesn't matter. Of course it does matter, and there has been plenty of debate about the final verdict. My call? The right guy (Jones) won. Would I have been up in arms if the decision went the other way? No, it was that close. But again, the right guy got the nod. The second debate is a familiar one after any elite fighter has to come back from adversity to win, and no, watching Jones go life and death with Gustafsson didn't affect my opinion of the champion in the slightest. In fact, it enhanced it. Though I believed Jones was rightfully the favorite going in, Gustafsson is no slouch, and he had the style and determination to give Jones fits. Plus, this is a fight. There is no one who got through this sport without getting hurt, getting knocked down, getting cut, etc. It's those who fight through such adversity that are the special ones. Jones and Gustafsson are both special fighters, and if you doubted that before their
UFC
165 main event, you shouldn't now.
THE REMATCH
So is an immediate rematch the right call for Jones and Gustafsson? You won't get any arguments from me if they fought ten more times if what happened last Saturday was going to be the result. But after a punishing battle like their first one, one that saw both fighters take a trip to the hospital after the fight, I'm guessing a vacation would be the first order of business. When that break is over, yeah, Jones-Gustafsson II has a nice ring to it.
BEST EVER?
A lot of post-fight tweets and message board postings talked of Jones-Gustafsson as the greatest fight of all-time. While I can appreciate such emotional and appreciative responses, I think "greatest ever" talk needs to take place after fights have settled into the history books, with time giving a greater perspective on whether a bout has earned such lofty praise. Having said that, fights like Henderson-Rua, Griffin-Bonnar I, Nogueira-Couture, and Liddell-Silva will always have a place in my personal "all-time" list. What do they all happen to have in common? They're all non-title fights. So I'll put myself on the spot here and list my top five all-time UFC title fights. My only cheat? They will be in no particular order:
Jon Jones-Alexander Gustafsson
Matt Hughes
-
Frank Trigg
II
Anderson Silva
-
Chael Sonnen
I
Brock Lesnar
-
Shane Carwin
Forrest Griffin
-Quinton Jackson
Just writing those five fights down, I feel like watching all of them again. Now that makes a great fight.
BARAO VS. CRUZ
As great as December's
Urijah Faber
vs.
Michael McDonald
fight is, I don't believe any more bantamweight title fights should take place unless the names
Renan Barao
and
Dominick Cruz
are the ones on the contract. So let Faber and Mayday take care of their business and if the winner is going to be next in line for a shot at the belt, let him either fight someone else or wait, because it's time that the title situation gets settled. The hope is that Cruz will make an early 2014 return, and when he does, a match with interim champ Barao will be an early Fight of the Year candidate. So who wins it? That's a topic I'm not ready to take on yet; all I'll say is that it's got every ingredient to make a classic.
HYBRID THEORY
Matt Mitrione
's heavy hands were expected by many to be judge, jury, and executioner heading into his bout with
Brendan Schaub
, and that wasn't surprising considering that the three losses suffered by "The Hybrid" were all by knockout. What wasn't really discussed that each KO loss came after Schaub hurt his foes, got overaggressive and defensively sloppy and then got caught himself. But on Saturday, Schaub didn't fight safe or defensively; instead, he fought like the KO artist that had already notched some big wins in the Octagon. And when he got Mitrione backing up, he went to his new love, jiu-jitsu, and finished the fight. That's an evolving fighter right there, and if he keeps his overzealousness for the knockout in check while still staying aggressive on the feet and the mat, he will be a major player among the big boys.
THE EAGLE KEEPS SOARING
Dagestan's
Khabib Nurmagomedov
is a beast, and that is meant in the most complimentary way. His three round win over
Pat Healy
was the most impressive of his career to date because of the way he did it and the quality of his opposition. Does he deserve the title shot he asked for? I'd like to see him in with another top five, top seven opponent first before that happens, and if he wins that, a fight with lightweight boss
Anthony Pettis
would be an interesting one. Even more interesting would be seeing if
Josh Thomson
would fight his AKA teammate for the belt should he beat Pettis in December.
CARMONT
Francis Carmont
won't win any Fight of the Night awards for performances like his three round decision win over
Costa Philippou
Saturday night, but I still left the Air Canada Centre impressed with what he did against the New Yorker. It's not easy to win 11 straight in mixed martial arts, especially when six of those wins come in the UFC, but Carmont has done just that, and he completely dominated one of the top middleweights in the division in Philippou. That's impressive, and you have to assume that he will get an even bigger name the next time out.
BULL OR MATADOR
It must be something in Toronto. In my eyes, Montreal's
John Makdessi
will always own one of the great knockouts in the history of MMA with his
UFC 129
finish of
Kyle Watson
in April of 2011, and while his KO of
Renee Forte
in his return to Toronto last Saturday didn't reach those heights, it once again showed "The Bull" to be one of the more exciting finishers in the lightweight division. But is he really "The Bull?" I think he's more matador, as he waits for his moment, forces his opponent to make a move, and then strikes. And when Makdessi strikes it usually doesn't end well for his foes. Can't wait to see what's next for this up and comer, who has quietly put together a nice three fight winning streak in a stacked division.
THIS AND THAT
If not for a couple guys named Jones and Gustafsson, my pick for Fight of the Night would have been
Mitch Gagnon
's first round submission of
Dustin Kimura
. The bout only lasted four minutes and five seconds, but these two bantamweights went for it from start to finish. A lot of fighters promise to do that, but Gagnon and Kimura actually kept their word…
Alex Caceres
came into the UFC with a lot of hype after his stint on TUF 12, but that hype died down fairly quickly. Now after his win over
Roland Delorme
lifted his unbeaten streak to four, the hype may just pick up again. It also doesn't hurt that "Bruce Leroy" has
Benson Henderson
and coach John Crouch in his corner these days…The
Daniel Omielanczuk
vs.
Nandor Guelmino
was more entertaining than many expected it to be, and the winner from Warsaw bears watching in the future…
Stephen Thompson
's striking is just on another level than most fighters. If his grappling follows in suit, or at least enough to make him a
Chuck Liddell
-like figure at 170 pounds, there may be more knockouts like his finishes of
Dan Stittgen
and
Chris Clements
…Hopefully the third round of
Jesse Ronson
's loss to
Michel Prazeres
was a positive omen for things to come for the Ontario native and a reminder to get off to a fast start the next time around…
Wilson Reis
and
Myles Jury
both left Toronto with wins, Reis turning back a tough vet in
Ivan Menjivar
and Jury taking a split nod over
Mike Ricci
but not looking as impressive as he has in past Octagon wins. But hey, sometimes a win's a win…