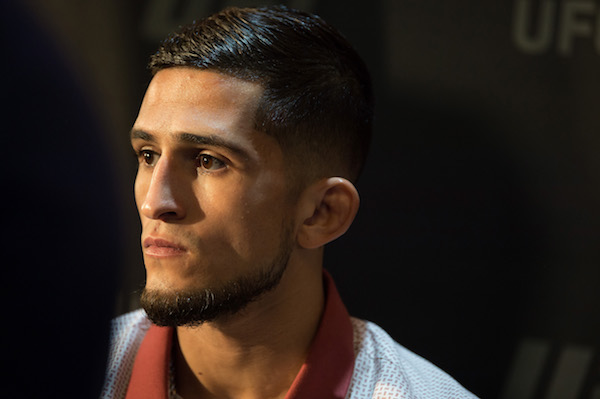 It took me nearly five years, but I finally got around to asking Sergio Pettis about the following line in his UFC bio:
"When I was about 13 I used to have pretend fights in my front room when nobody was there, pretending I was fighting for the UFC."
So, Mr. Pettis, what did those fights look like?
"They always ended up with me winning," he laughs. "It was pretty much like the little kid who played basketball and was visualizing and visualizing, but never really knew the purpose behind the visualization. Now there's a purpose behind it."
Listen to @SergioPettis break down his #UFC229 opponent @JussierFormiga : pic.twitter.com/BCR2jxlpu8

— UFC News (@UFCNews) October 4, 2018
That purpose is to become the best flyweight in the world, and after wins in five of his last six bouts, including a June victory over two-time title challenger Joseph Benavidez, the No. 2-ranked Pettis is closing in on that goal as he approaches his UFC 229 meeting with No. 5-ranked Jussier Formiga on Saturday.
That's a good place to be in for the 25-year-old Milwaukee native, but it wasn't always that way for the fighter formerly known as "The Phenom."
"It's something I didn't really think about at the time when I first started in the UFC and I was just going through the motions of fighting," he said. "Now I have a 'why' of why I'm here and what I want to do with this. Honestly, the first couple years of my career, I didn't have the mentality of a fighter, of wanting to do more and have more responsibilities on myself. And the more I'm aging, the more I'm seeing what I want and what I need in my life that I feel will make me feel accomplished in my life. It's a goal that I've had for a while now."
And as the years have gone on, Pettis is showing his evolution in the Octagon while maintaining the calm, cool and collected demeanor he's always had outside of it. But it was really the Benavidez fight where everything came together, as he gutted out a hard-fought decision win over the longtime number one contender.
"I think it was a realization like, 'You know what, Sergio, you're good, man. You can compete with some of the best in the world,'" Pettis laughs. "As a fighter, it's hard. You criticize yourself sometimes and you obviously have the critics around you and, at times, you get in your own head. And before that fight, I was in my own head and I was really nervous. I even told my girlfriend before the fight, 'If I lose this one, don't cry for me, don't feel sad for me; this is gonna be a tough fight.' And I just went out there and did what I had to do. I came out with the victory, and it was a realization that I'm ready to compete with some of the best in the world, and not just compete with them – I'm ready to outclass them, and that's the next goal."
He'll be in tough again with Brazilian veteran Formiga, but any opponent will be in tough when facing Sergio Pettis. And that's a key point these days. In other words, everything is clicking at the perfect time.
"Life has just happened that way," he said. "I think everything is lining up in the right order for me to finally come out and showcase my true skills and do what I know I could have done earlier. But now I want it and now I need it. (Coach) Duke (Roufus) has been a great mentor and a great coach keeping me on the path and he tells me, 'Take your time, be patient with this. You're a young man, you've got a lot of years left.' And that's how I view it. I'm young enough, but I'm also old enough to realize that I want it."
Yeah, he's only 25.
"Man, I feel like I'm just getting started," he said. "Every year I've been improving and getting better and maturing. I just turned 25 and I know what I want now and I know what I have to do to get it."