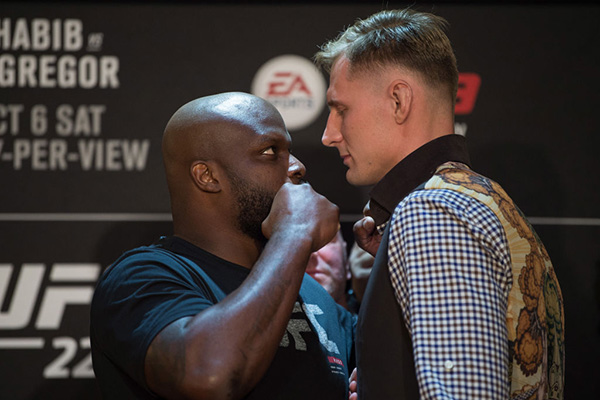 Derrick Lewis is back in Las Vegas for the first time in three months – the first time since "that night" – and plenty of things feel different.
"Vegas is looking a little different today," Lewis says upon arriving in the desert in advance of his UFC 229 showdown with Alexander Volkov. "It doesn't feel like it did when I first came out here with the humidity and all that. It's feeling like California out here; it's real good."
In addition to cooler fall weather with a bit more of a California vibe, the Houston-based heavyweight's back also feels different, which is of paramount importance to the temperature and just about anything else heading into this weekend.
Order UFC 229 Now For Any Device! | MMA Media Roundtable: UFC 229
Lewis' back has been an issue throughout his career, but has become increasingly problematic in recent years.
Last October, he was forced out of a scheduled bout with former champion
Fabricio Werdum
just hours before UFC 216 kicked off when his back seized up and rendered him immobile. This past July, the last time he was in Las Vegas, it happened again, but Lewis tried to push through it and stepped into the Octagon against
Francis Ngannou
anyway.
What followed was one of the most confusing, uneventful bouts in recent memory.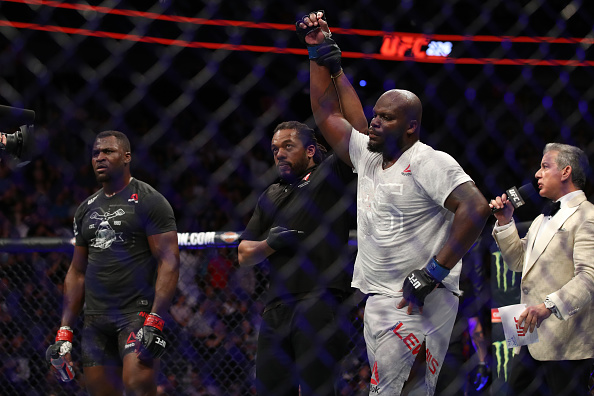 Expected to be a clash of heavyweight knockout artists with Ngannou returning for the first time since his loss to
Stipe Miocic
in the main event of UFC 220 and Lewis angling for the biggest win of his career, the bout turned into a 15-minute staring match.
Neither man engaged. Neither man threw anything other than single shots, most of which had little chance of landing and even less chance of doing damage. Everyone was perplexed.
At the time, no one knew Lewis' back had seized up again and while many speculated throughout the fight – because there was a lot of time to ponder what was going on – it wasn't until after the bout that Ngannou confirmed his loss to Miocic in Boston had shaken him to his core and left him questioning his own abilities inside the cage.
If they had happened independent of one another, it might not have been as bad, but when both froze up inside the Octagon for very different reasons, it became difficult to watch.
Lewis apologized for his performance and detailed the continued trouble he'd been experiencing with his back, but even now, nearly 90 days later, he's still disappointed with his effort and bent on making up for it this time around.
"It still gets me to this day," admits Lewis, who enters Saturday's meeting with Volkov on a two-fight winning streak and having earned victories in eight of his last nine appearances. "I feel like I have to perform a lot better than what I did in my last one. That's my whole goal right now, to perform better."
Over the last several months, Lewis has worked to improve his posture and began stretching before and after his workouts, which has his back feeling better than it has in quite some time.
.@TheBeast_UFC is going to put on for the people at #UFC229. Check out the full Q&A with the man himself :https://t.co/t330P6w8Vc

— UFC News (@UFCNews) October 4, 2018
While foam rollers and a focus on pliability might be commonplace in most training rooms and home gyms these days, it's not something that the massive heavyweight with the deep baritone and deadpan sense of humor had included in his preparations in the past, and the impact it is having now has left him pleasantly surprised at times.

"Usually I don't stretch before I work out; I just take my clothes off, put my workout clothes on and start hitting pads," explains Lewis. "I don't stretch, so lately, that's what I've been doing (and it's been working).

"Whenever I stand up, sometimes it feels real weird because I have no pain. Usually when I stand up, I have pain."

Pain-free and focused on making up for his last performance, Lewis still maintains the same overall approach to his career and his craft as always in advance of this weekend's showdown with Volkov.

With the surging Russian coming off a stoppage win over Werdum and boasting a perfect 4-0 mark in the UFC, the winner of this matchup will cement their place in the thick of the title chase in the heavyweight division, but none of that factors for the big hitter known as "The Black Beast."


New conditioning workout got me moving faster pic.twitter.com/B6j4ud0MhS

— Derrick Lewis (@Thebeast_ufc) September 21, 2017
"I look at all my opponents the same – like they're tough as hell," says the 33-year-old finisher, who has gone the distance in just four of his previous 26 fights. "I know none of my fights are going to be easy and I don't overlook anyone. I look at every opponent as if they're going to be a tough fight.

"(In terms of what comes next), it's still the same," he adds. "If they want me to fight for the title next, that's fine. If not, I'm not going to be pouting about it and not wanting to sign another fight deal or whatever if they won't give it to me."

Three months removed from his fight with Ngannou and heading into another crucial contest, it's clear that the disappointment over his poor showing still lingers with Lewis.

As much as he's crafted a niche for himself as being a must-follow on social media and developed a cult following, the most important thing to the prideful heavyweight has always been to deliver entertaining performances whenever he steps into the cage.

He didn't do that last time, and making up for that on Saturday is his chief concern.

"I hope it will be one of the best fights of my career – back-and-forth," he says of the fight with Volkov. "I really hope I show up to fight this time.

"Win, lose or draw, I just want to perform better."