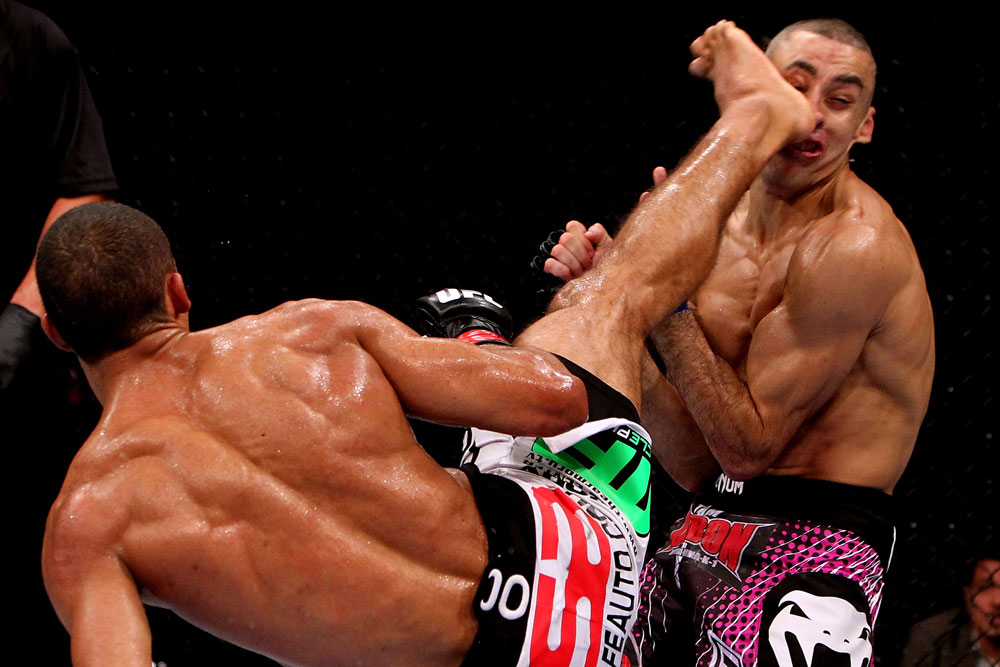 We only go with a Top Five for the unofficial half-year awards, and without fail, the best knockout category is always the toughest to narrow down to single digits. In 2012, it seems like it's even harder to pick, but hey, here they are, and let the debates begin…

5 – Stephen Thompson KO1 Dan Stittgen
When it was announced that Stephen Thompson was making his Octagon debut at
UFC

143
in February, diehard combat sports fans were excited to see the unbeaten kickboxing star getting his shot in the big show in MMA. Cynics, on the other hand, were waiting for him to fall so they could say that a pure kickboxer just couldn't compete at the elite level in this hybrid sport. Thompson answered many of those questions against Dan Stittgen, the main one being, if he hits you flush with a kick to the head, it doesn't matter who you are – you're going down. That was the end result for Stittgen, who was knocked out with a picture perfect head kick at 4:13 of the first round
(Watch Here)
.
4 – Dan Hardy KO 1 Duane Ludwig
Dan Hardy needed a win bad. Loser of four in a row, the former world title challenger was on the brink of UFC extinction when he stepped into the Octagon to meet up with Duane "Bang" Ludwig at
UFC 146
in May. The good news was that he wasn't going to be facing a smothering wrestler; the bad news was that Ludwig is one of the best technical strikers in the sport today. So with all the pressure on, "The Outlaw" bit down on his mouthpiece, landed a sizzling left hook on the button, and finished "Bang" at 3:51 of the first round
(Watch Event)
. Awesome knockout? Yes. A redemptive one as well? Absolutely.

3 – Michael McDonald KO1 Miguel Angel Torres
While former WEC bantamweight champion and pound for pound list entrant Miguel Angel Torres was quietly crafting a comeback, California's Michael McDonald was loudly crashing the UFC's bantamweight division with increasingly impressive performances. At
UFC 145
in April, these two diverse paths collided in Atlanta, and the 21-year old "Mayday" not only proved that he was ready for prime time by beating Torres
(Watch Event)
, but he proved that he may even be ready for a shot at the title with a crushing first round knockout of the Indiana veteran. If you could think of a better coming out party, I'd sure like to hear it, because this one would be hard to top.
2 – Anthony Pettis KO1 Joe Lauzon
Let's not mince words here. The Anthony Pettis that showed up against
Clay Guida
and
Jeremy Stephens
just wasn't the "Showtime" we had come to know and love from his flashy days in the WEC. But at
UFC 144
in February, the king of the highlight reel returned in style, knocking out fellow contender Joe Lauzon with a left kick to the head in just 81 seconds
(Watch Event)
. After the bout, the gracious and self-effacing Lauzon simply tweeted "I'm in Japan for a few more days and was gonna look at buying a sword, but I think I'm gonna invest in a helmet instead." The rest of the lightweight division would be wise to do the same.

1 – Edson Barboza KO3 Terry Etim
The ESPYs may have gotten it wrong in not awarding this its Play of the Year award, but the finalist there is a winner here, and in a year with some spectacular knockouts thus far, Edson Barboza's wheel kick finish of Terry Etim at
UFC 142
in January is far and away the best of the half-year. It had it all – speed, power, technique, accuracy, and pure 'wow' effect (
Watch KO
Watch Event)
. Etim was out the second he got caught by Barboza, and the scary part is that when asked about the finisher, the Brazilian Muay Thai expert said, "To be honest, no, I don't train that kick much. I like to train the basic things like body kicks or low kicks. But I've known how to do that kick since I was eight years old, when I started training Muay Thai. I think I have been keeping it inside of my mind, and when I need it I throw it out." Wow.
Honorable Mention: Nick Denis-Joseph Sandoval, Lavar Johnson-Joey Beltran, Siyar Bahadurzada-Paulo Thiago, Mike Pyle-Josh Neer, Eddie Wineland-Scott Jorgensen, Chris Weidman-Mark Munoz, Andrew Craig-Rafael Natal, Issei Tamura-Tiequan Zhang, Roy Nelson-Dave Herman, Martin Kampmann-Jake Ellenberger